Undergraduate Aid by Source and Type (in Billions), 2012-2013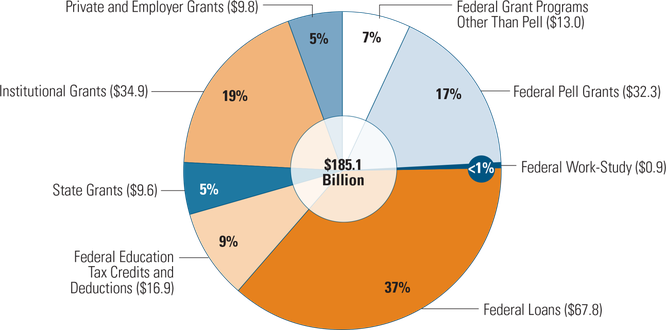 SOURCE: The College Board, Trends in Student Aid 2010, Figure 2A

There are four comments about the chart above:
1. The first is the largest amount of money given is loans. Loans are not the aid you want to go after. Too many students are ending up with huge debts that will take years to repay. Loans for college only make sense in small amounts.
2. Federal grants and most state grants truly are need-based, but the vast majority of students don't qualify for them. If you do, then great, but most do not.
3. The item NOT on the chart that many students spend hundreds of hours pursuing is private scholarships. These are the $500 Exchange Club scholarships, the $250 PTA Scholarship, the $750 Boeing Scholarships. In total private scholarships account for less than 1% of the money out there to pay for college. Way too much effort and attention is paid to this insignificant piece of the pie.
4. Institutional Grants account for $26 BILLION/year! This is the money you want to go after. This is free money (not a loan). This is schools taking the sticker price of college and slashing it to some lower number, calling it a "Presidential" or "Regent" Scholarship and using the tuition discount to convince the student to choose their college over the competition.
So which schools are most likely to give out institutional aid?
There are a number of ways to answer this question, and not any one way will fully address it. However, one statistic to consider is enrollment yield. 
Ask yourself, what do I need to win? What is my EFC? Can it be any lower and how will I fund it. Ask yourself, what does my student need to win? What colleges might be the best prospects for me student. Where will he get in, get scholarships at and graduate on time. Ask yourself, what does my family need to win? 
And finally, ask yourself, how can I afford not to schedule an initial consultation. It is free and there is no obligation.  Click the button on the right to schedule it today.